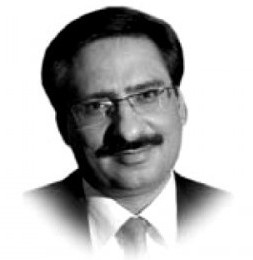 The city of Bhong is 20 minutes away from Rahimyar Khan. We were a few hundred feet above the land and the noise from the helicopter engines was very loud. Chief Minister Shahbaz Sharif looked out and with great sorrow and a deep sigh said, "Look at the devastation. It's simply mindboggling. How many years will you need to rehabilitate these fields, farm houses, villages and houses?"
He was here the very next day after the flood came. "By then the town of Bhong was under water, people had taken refuge on trees, mounds and roofs of houses. Land links, power supply and telephones were suspended; even the famous Bhong Mosque was inundated." He and his team started the supply of food, clothes, water and tents to people by helicopters and boats. "I haven't seen destruction on such a large scale in my life… these are the most horrifying days I have ever had. If I had to go to Lahore for an official engagement that could not be avoided, I would but then I would return to southern Punjab for relief work within half an hour."
Shabaz Sharif said that he personally supplied food to people, crossing the Indus and Chenab rivers dozens of times. "Without this, I would not have grasped the situation properly."
After an aerial tour of Bhong, we landed in Sadiqabad. The local administration had set up a 'fake camp', situated near the helipad to ensure that the chief minister's visit was 'successful'. But when he declared that he wanted to go to another camp, there was chaos in the administration.
We proceeded to the second camp. As we arrived there, people encircled the chief minister and started raising slogans in his favour. In the beginning this all looked artificial and it seemed as if a kind of a live play was being staged by the administration. But after a close look and individual meetings with people I realised that people were speaking their hearts and baring their souls to the chief minister. People were being provided food, clothing articles, tents and medicines at the camp. I saw a mechanical tandoor with a capacity to produce a thousand loaves of bread an hour.
The camps are alright and well-managed; however, I saw a lack of cleanliness there. Flies and dust were everywhere. The health secretary is present in the area and is working day and night. But these flies are out of control and could give rise to a serious epidemic. The chief minister and the health secretary should look in to this matter and prevent this from happening.
We returned throwing food packets on our way in Mehmood Kot. I did not see any protocol or any DC or DPO anywhere. "Why?" I asked and the chief minister replied with a smile: "I have told my administration in southern Punjab to work in their respective areas, and that if any officer came to receive me leaving his work, he should consider his service terminated."
Published in The Express Tribune, August 22nd, 2010.