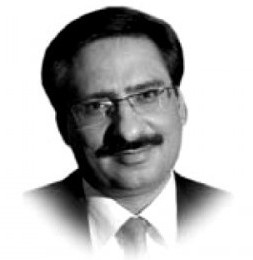 Shaukat Aziz is no doubt a clever person. He was an ordinary employee in Citibank in Dubai where he made friends in the royal family. He went to America and became a banker to a group of global kingmakers. PML-N Senator (and then-finance minister) Ishaq Dar brought him to Pakistan where he started advising the government on economic issues. Mr Aziz's aim was to become governor of the State Bank of Pakistan and Ishaq Dar was about to do just that when the PML-N government fell.
However, Mr Aziz immediately contacted a relative of Pervez Musharraf and managed to speak to the army chief. The result was that he soon became finance minister and later prime minster. In fact, Mr Aziz played his cards so well that after Musharraf's fall from power, he left the country and is now leading a lavish lifestyle abroad. People blame General Musharraf or the Chaudhry brothers for most of the ills of the previous government, conveniently forgetting Shaukat Aziz's doings. And the irony is that he is still giving advice to poor countries on how to run and improve their economies.
Now, I have to say, I have seen a very different Shaukat Aziz in a meeting right before he left his post as prime minister. He told me he was under pressure about what to do with the Lal Masjid issue and the suspension of the chief justice of Pakistan. But what I want to mention is three predictions he made at the time, all of which I disagreed with, but which came true.
He said that Musharraf will get all his sins white-washed but the Akbar Bugti murder would be his undoing and that certain evidence in that matter, if and when disclosed, could make life difficult for him. "It will be a difficult time for Musharraf and then the army will have to choose one; Musharraf or Balochistan," he had said.
The second thing he had said was that Nawaz Sharif will be able to return home but America and Saudi Arabia will not let him speak freely and that if the PPP and the PML-Q formed a government in the future, Sharif will be "periodically active, periodically inactive."
And the third was that a third power is using the bench and the bar for its own interests. Ultimately the judges will get restored but the lawyers will not let them work, creating a crisis where the bench and bar will lock horns with one another. "Both will have an end similar to ours," he said.
The first two points have already become true. And now the lawyers and the judiciary are pitched against each other, so much so that an honest and principled district and sessions judge, Zawar Ahmed Shaikh, has been sent on forced leave.
Published in The Express Tribune, October 9th, 2010.